We are an innovation company that helps brands
to reimagine themselves for the digital world
HAVAS + boondoggle
Boondoggle started its journey in Leuven, Belgium and is located in De Hoorn, the original brewery of Stella Artois. It was founded by Pieter Goiris and Werner Camps in 2000 as i-Merge and reimagined itself as Boondoggle in 2007. It is represented in Leuven and Amsterdam.
Today the agency employs over 150 people, has revenue in excess of €15-million, has won several of the world's biggest effectiveness and creative awards and has been included in the Cannes Game Changer's list. It has been a member of the Havas network since 2012.
Havas Boondoggle SA is a part of the Havas Village in South Africa, a full-service communication group that services blue-chip clients across sub-Saharan Africa. The agency was launched in February 2016.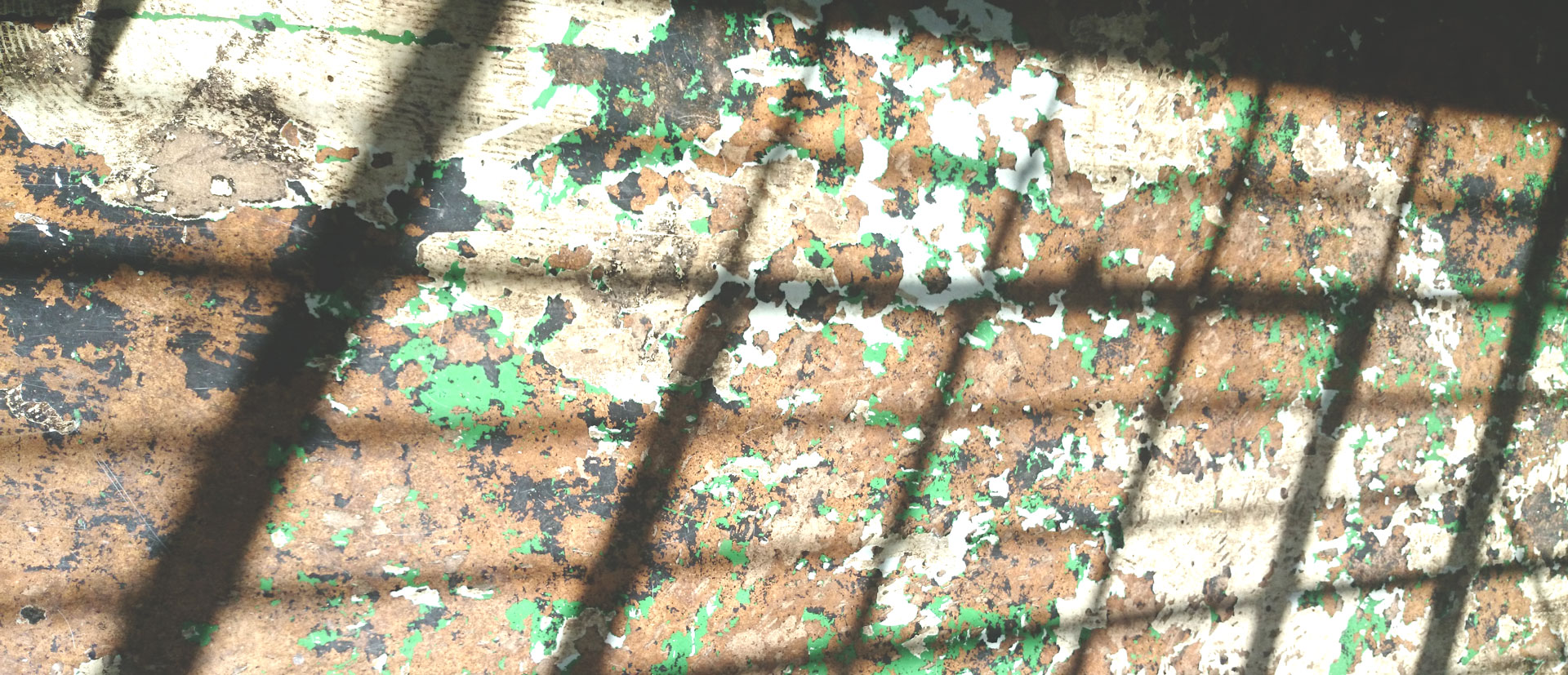 Reimagination
Why we do it
Reimagination leads to products and services that change the world.  It helps brands to bring their purpose to life in tangible ways. Reimagination allows brands to be experienced in way that makes them more useful, memorable and shareable. It creates opportunities to open up new markets, revenue streams and make full use of hidden assets.
How we do it
We find the creative sweet spot between three important things:
Empathy: It all starts and ends with the person we are creating for. By putting ourselves in their shoes we are able to fully grasp what they need, what they want and what worries them. This helps us make human-centred stuff.
Technology: Technology is the thing we pick up to make ideas happen. We bring our digital expertise and understanding into the process to make full use of the latest in technology innovation.
Business objective: We work with our clients to have a clear understanding of what it is they are trying to do from a commercial perspective, because the answer is only ever as good as the question.
We deliver reimagination through service design methodology which means we spend a lot of time immersing ourselves in the life of the person we are designing for. We facilitate and host co-creative workshops where we spend time with the people who bring the brand to life and those who can bring more insight into the process. Workshops are guided with service design canvasses that aid learning, ideation and ranking of ideas. We ideate against the service gaps we uncover during the process and we manage the build of touchpoints, tools, products and services and communication campaigns.
Clients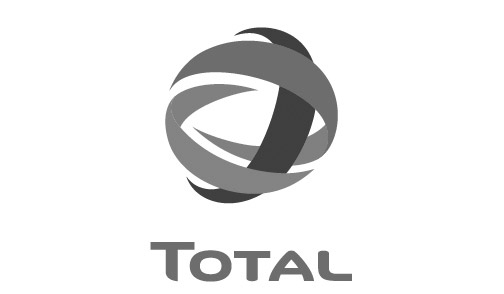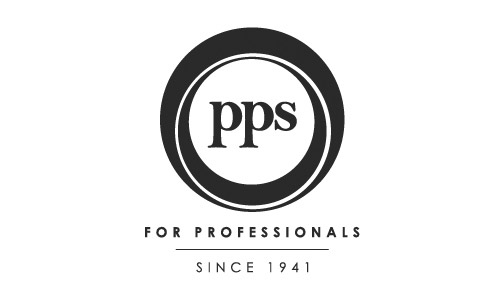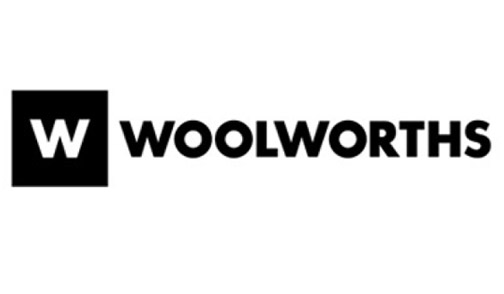 People
Pieter is first and foremost an entrepreneur. Besides starting Boondoggle in Europe over 15 years ago, he has also started other companies with Werner including, Bonka Circus, a talent management agency, and De Hoorn, responsible for the conversion of the old Stella Artois brewery into a hub for creative talent. As CEO, he drives a lot of the strategic thinking for our clients' businesses. He has a background in industrial psychology and liked to think he was the fastest cyclist in the agency until Boyd came along.
Werner was a theoretical physicist before starting Boondoggle with Pieter. He understands quantum mechanics but setting up a Telkom router was more complicated. He is the brains in our operations and always the calm, steadying voice of reason. He also co-owns a bookshop in Leuven because he likes to get books at cost price. Werner's clever like that.
Boyd has spent most of his adult life on the saddle of a bicycle. The rest he spent working in digital design agencies in Europe and South Africa. When he doesn't keep us to deadlines and things he is Grand Master and Holder of the Braai Tongs during impromptu agency lunches. He can get you a good deal on a bike. Enquire within.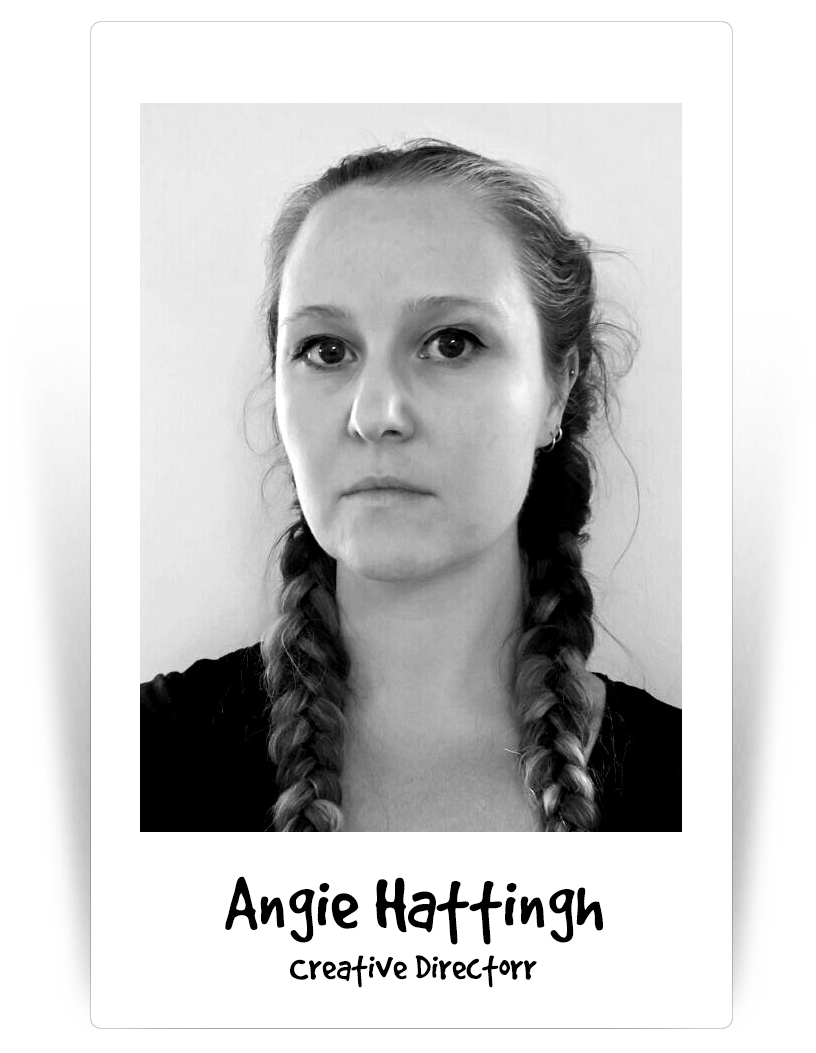 Angie has 16 years experience working in the digital industry as a designer, front end developer, writer, strategist and editor of a online fashion industry magazine. She knows more about beer and the brewing of the golden liquid than anyone with a beard and check shirt, including the Belgians. She likes thinking about people and why they behave in the way they do. For kicks, she is raising a tiny baby girl.
Craig has spent his entire adult life in the technology and marketing industry, exploring both the development and the content creation aspects of it. Through the years, he has developed a strong interest in the psychology and sociology around social media, as well as exploring the depths of user experience and web development. He spent his youth growing up in Boksburg, a mere stone's throw from where Leon did. Which explains the occasional broken window. He once killed a man with his raw talent.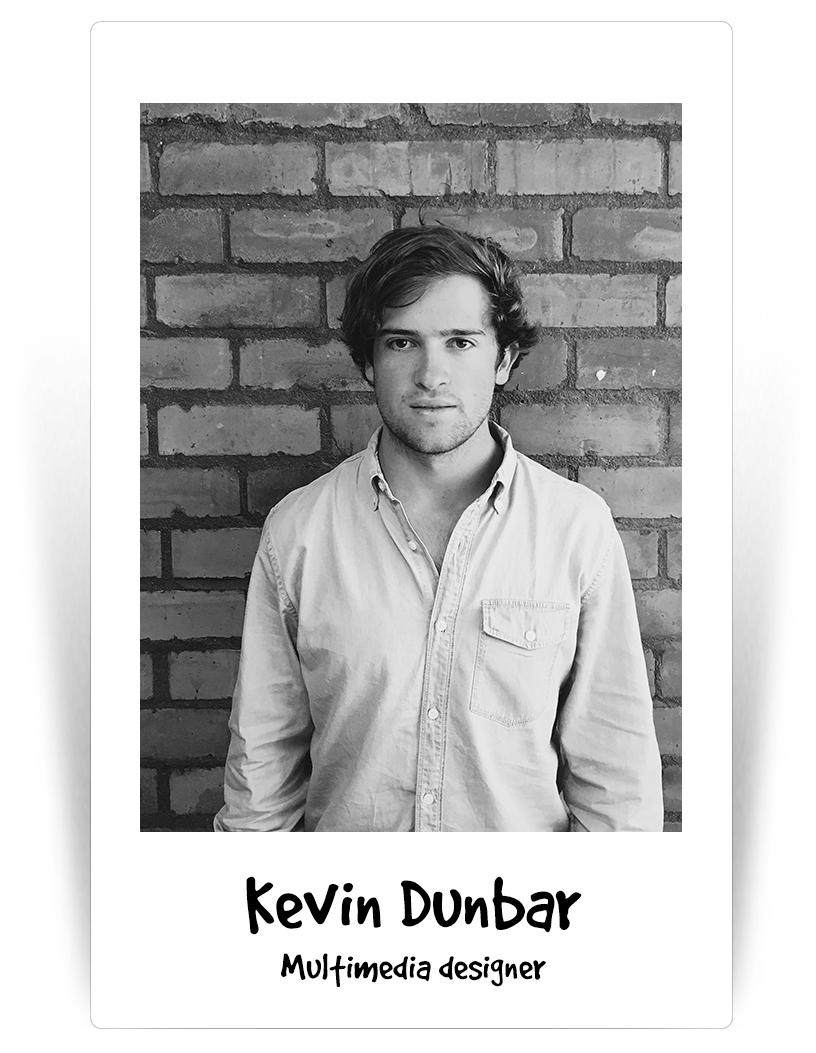 Kevin was born in Johannesburg but managed to escape at a very young age to spend his formative years in Durban, India and finally - Cape Town. He is all about family, friends, technology and design and not necessarily in that order. He loves what he does and feels nothing but pity for accountants and engineers. When he is not behind a screen helping us reimagine the world, he climbs mountains.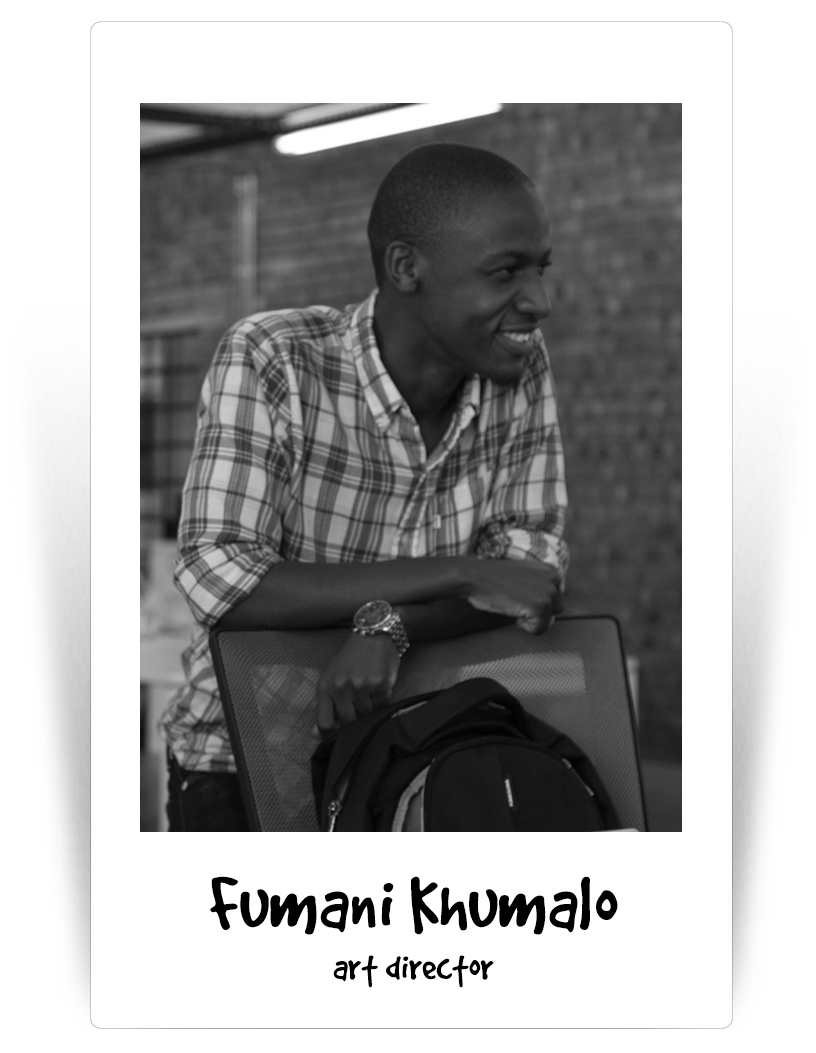 Strategist. Art director.Thinker. Fumani is a craftsman, intrigued by the underlying processes that constructs his work. Insights, behaviours, concept generation, colour, shape, layout and typography - all culminating in beautiful work. He believes in giving each line of work the attention it deserves because the devil lives in the details, after all.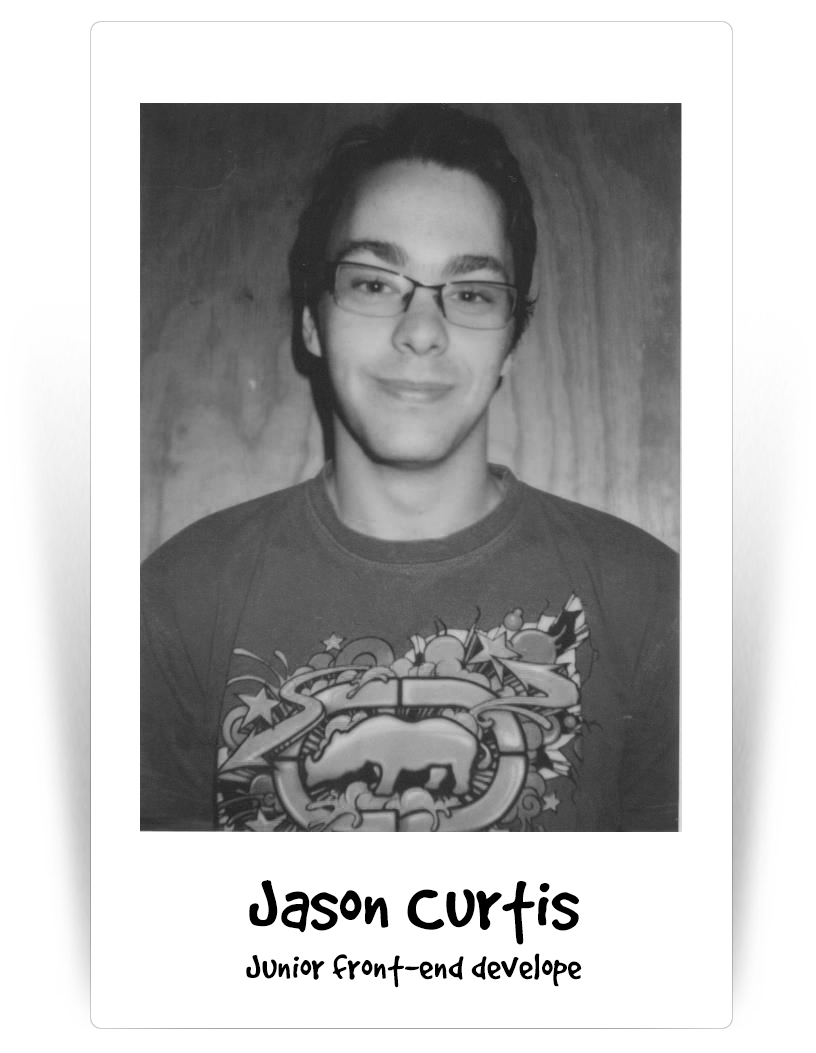 Jason is so new to the agency world that we are still removing some of his packaging and reading the manuals. He is from Johannesburg's south side and has always been interested in technology. He believes that whatever doesn't kill you makes you stranger. We look forward to corrupting him.
Lee has found his way into advertising world through his love for creativity that surrounds entrepreneurship. He's worked in Branding & Strategic advertising agencies, but has subsequently settled as an Agile Project Manager within the Digital and Social Media advertising sphere. Lee has a keen interest in User Experience and Design Thinking. In his spare time Lee throws himself out of aircraft repetitively as a skydiver. Lee claims that he isn't going bald… it simply takes him longer to wash his face in the morning.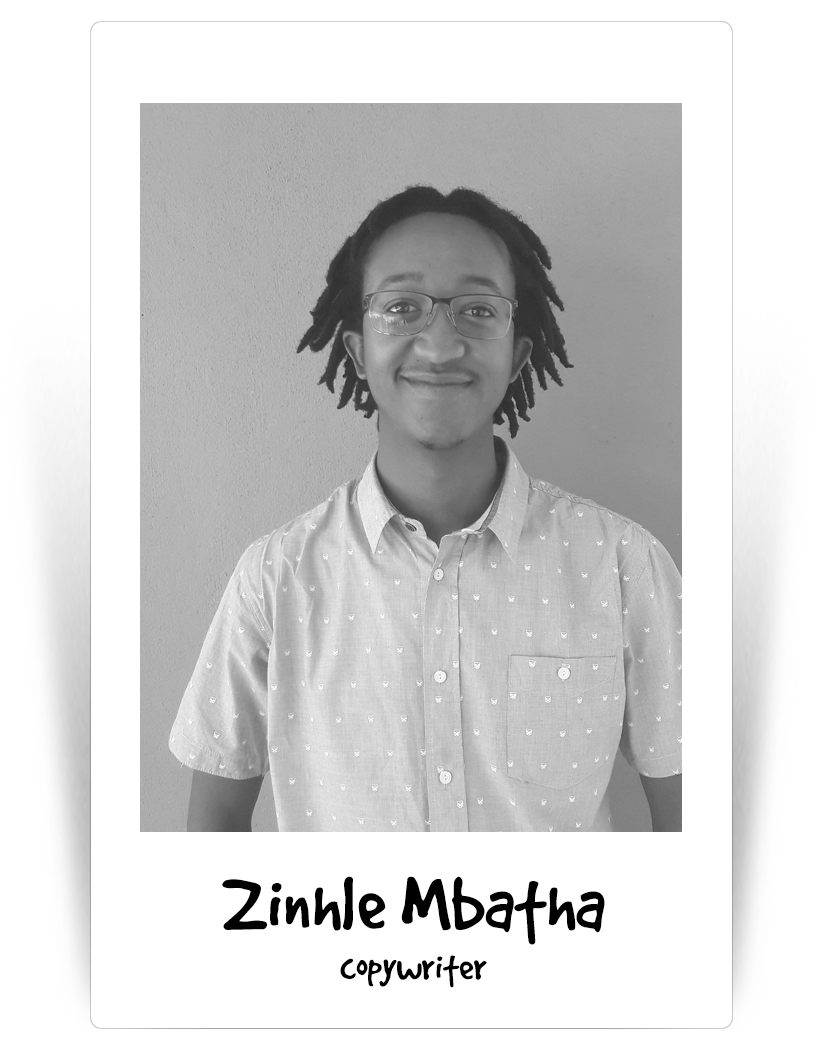 Zinhle is a writer, dreamer, and serial thinker. He draws inspiration from the hidden mechanics behind anything and everything. A firm believer that if it's not broken, dismantle it, understand it and then re-create it. In his free time he explores the latest technology and is pretty sure that aliens have an inexplicable fear of cameras. He also wrote this profile himself which is why he sounds smarter than anyone else.
Zama is a Johannesburg-native, so it's no surprise that she's driven. She moved into digital media in 2014 as a project co-coordinator. Since then she's been enthralled by the lure of launching new projects and seeing them through from start to finish. Her superpower is problem-solving: she excels at turning lemons into lemonade.
Zweli is the master of pixel-perfect websites and slick online solutions. His eleven-year passion for programming and digital devices has propelled him into the advertising and digital media industry. He has worked on accounts for some of the biggest players in the industry. He has a solid head on his shoulders, but – importantly – he also has a big heart in his chest. After-hours, he donates his skills to technology start-up companies and non-profitable organisations, such as the Smile Foundation.
Out of re-imagination we produce:
Digital products and services with real purpose
New opportunities for partnerships
New value propositions that forms the basis for meaningful communication campaigns
Service design narratives that will clearly illustrate how our ideas will transform the experience of your brand